Sometimes music therapists hone their clinical skills and expertise through first hand experience. That was, indeed, the case for board certified music therapist Beth Beathard who had only worked 6 months as an MT-BC before she had the first of many serious life-threatening heart events. After 18 difficult months, her medical condition deteriorated to the point of needing a heart transplant. In this compelling AMTA-Pro podcast, Beth describes the physical and emotional challenges she experienced during those months, shares some thoughts about her "self-directed" music therapy, and talks about her personal and professional growth in the seven years since her transplant. Beth's rocky journey led her from depression, fear and anxiety into a place of hope and sincere gratitude, along with a solid contract for music therapy in a senior living center and the exciting possibility of hospital-based music therapy services for transplant patients. Beth's AMTA-Pro podcast is being released the week of February 14 – National Donor Day – in celebration of her successful heart transplant and re-entry into her career as a music therapist.
Standard Podcast
[ 30:49 ]
Play Now
|
Play in Popup
|
Download
Heart Transplant for MT-BC
AMTA-Pro Podcast
February, 2016
— + —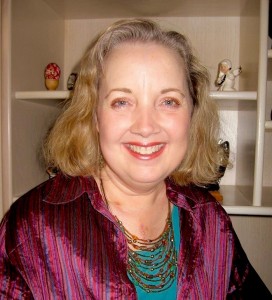 Beth Beathard is an accomplished oboist and Board Certified Music Therapist from Dallas, Texas. She has a Bachelor's of Music degree in Music Therapy from Southern Methodist University and has been Board Certified since 2006. Beth had only worked six months as a music therapist before she had the first of many unexpected life-threatening heart events. After two difficult years, her medical condition deteriorated to the point of needing a heart transplant. She survived that surgery and has overcome the accompanying depression, fear, and anxiety. This picture was taken just three weeks after her heart transplant. Seven years later, in 2016, Beth contracts music therapy services to a Senior Living Facility and has aspirations to provide music therapy services for heart patients in her hospital, Medical City Dallas.
Beth put together a CD for herself during the most trying times. She writes, "I needed music for relaxation, spiritual support, and motivation. It was a form of 'self-directed' music therapy." The selections for her CD included tracts of her  playing oboe with the Lovers Lane UMC choir many years ago. Beth writes, "The oboe pieces meant the most to me for two reasons. First, I wanted desperately to play again and knew I needed to survive and heal in order to play. Also, the words of these and other pieces spoke to me during my illness."  Fortunately, Beth has, indeed, survived and recovered to a point of being able to play the oboe for her church and other occasions. This picture was taken on the 5th anniversary of her heart transplant with flowers in the background in honor of the 23 year-old mother whose heart is beating in Beth's chest.
Beth drew this picture on a piece of scrap paper one day at her lowest point when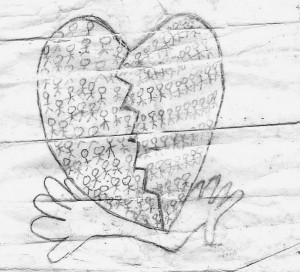 it dawned on her that many, many people had contributed to the physical and emotional healing of her heart – her medical team, heart donor, family, church family, music therapy colleagues, friends and neighbors. She kept this paper as a reminder of all those involved. Beth encourages everyone to consider being a donor – organ, tissue, eye, blood – in order to save lives. Each day, an average of 79 people receive organ transplants. However, an average of 22 people die each day waiting for transplants that can't take place because of the shortage of donated organs.
Click here for information about Beth's heart transplant clinic:  http://medicalcityhospital.com/service/heart-transplant
One Response to "Heart Transplant for MT-BC"
Marlea Zimmer Gruver Says:
August 27th, 2016 at 7:31 pm

Hello Beth,
I was thrilled to hear your podcast which was well done. We have some things in common. I am an MT-BC. I am a kidney donor and used music in my donation. I also played oboe. I hope there is a way we might email. Mine is provided with this comment.

For now I will just say THANK YOU for sharing your journey.

Best Wishes,
Marlea Zimmer Gruver