Interprofessional Health Care Education is being implemented in a growing number of universities, allowing students, clinicians, and professors in various health care professions to learn about other areas and to experience collaboration. This AMTA-Pro podcast features two music therapy educators, Dr. Andrew Knight of Colorado State University and Dr. Meganne Masko of Indiana University-Purdue University along with Eric Johnson, MD of University of North Dakota, all three of whom have teamed up with other health care professionals in three different universities. These knowledgeable colleagues discuss the growth of IPE (Interprofessional Education), their experiences and observations over the years, and the possibilities for the future. The text section of this AMTA-Pro podcast includes access to a comprehensive handbook with details about Interprofessional Health Care Education program structure, course curriculum, grants, and research, as well as implications for music therapy practice.
Standard Podcast
[ 47:56 ]
Play Now
|
Play in Popup
|
Download
Interprofessional Education & Music Therapy
AMTA-Pro Podcast October, 2017
 — + —
AMTA-Pro Speakers
Andrew Knight, PhD, MT-BC, is an associate professor of music therapy at Colorado State University, and teaches a course open to any music therapist through CSU Online in summer semesters, called MU 680A2: Interprofessional Health Care. andrew.knight@colostate.edu, @knightmtbc on Twitter, www.musictherapyresearchblog.com.
Meganne Masko, PhD, MT-BC/L, is a music therapist and Assistant Professor of Music and Arts Technology in the Purdue School of Engineering and Technology at Indiana University-Purdue University Indianapolis. Her clinical background is in hospice and palliative care and oncology, and she is a researcher in Gynecological Oncology at the Indiana University Melvin and Bren Simon Cancer Center.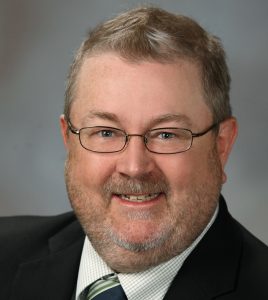 Eric L. Johnson, M.D., is an Associate Professor at the University of North Dakota School of Medicine and Health Sciences in the Department of Family and Community Medicine. He serves as the Director for Interprofessional Education and Medical Director of the Physician Assistant program at the UND School of Medicine and Health Sciences, and Assistant Medical Director for the Diabetes Center at Altru Health System in Grand Forks, North Dakota. A graduate of the University of Nebraska Medical Center, Dr. Johnson completed his residency in Family Medicine at the University of North Dakota-Fargo Program and is Board Certified in Family Medicine.
AMTA-Pro Podcast Resources
Core Competencies for Interprofessional Collaborative Practice – https://nexusipe.org/informing/resource-center/core-competencies-interprofessional-collaborative-practice-report-expert –
Team STEPPS through the Agency for Healthcare Research and Quality – https://www.ahrq.gov/teamstepps/index.html
University of North Dakota Office of Interprofessional Education – http://www.med.und.edu/interprofessional-education/
Center for Health Sciences Interprofessional Education Research and Practice at University of Washington – https://collaborate.uw.edu/
Centre for the Advancement of Interprofessional Education – https://www.caipe.org/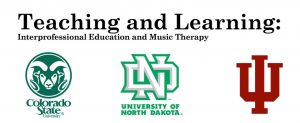 60-page (6.4MB) comprehensive handbook by Dr. Knight, Dr. Masko, and Dr. Johnson in pdf format includes details about Interprofessional Health Care Education program structure, course curriculum, grants, and research, as well as implications for music therapy practice. http://amta.ianitor.com/audio/interprofessional_ed.pdf