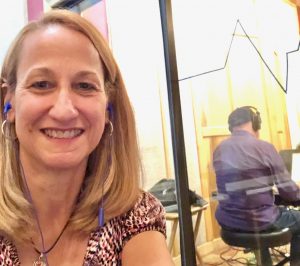 Why should music therapists be concerned with music industry issues? How are songwriters compensated for their work? What are fair use principles? How do fair use, copyrights, streaming, and other music industry issues impact music therapy?  In this AMTA-Pro podcast, Dr. Tracy Richardson shares her knowledge and insights about these issues based on extensive personal experience in both music therapy and the music industry. In addition to being a serious singer/songwriter who has opened for major artists and has 3 original CDs to her credit, Tracy has over 30 years of experience as a music therapy clinician and educator. Her podcast provides some food for thought and helpful resources for all music therapists.
Standard Podcast
[ 13:52 ]
Play Now
|
Play in Popup
|
Download
The Music Ecosystem: Music Industry Issues for Music Therapists
AMTA-Pro Podcast ~ September 2020
Tracy G. Richardson, Ph.D., MT-BC
— + —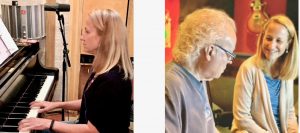 Our AMTA-Pro podcast speaker, Tracy Richardson, tells us about the person she is talking to in the snapshot on the right:
"I want to introduce AMTA members to Ron Oates, my producer and arranger for my most recent CD Superwoman Blues. Ron Oates is an icon in Nashville. He was the piano player, session leader, and/or arranger on hundreds of hits in the 1970s and 1980s by the Oak Ridge Boys, Dolly Parton, Earl Thomas Conley, Kenny Rodgers, Vern Gosdin, Olivia Newton John, Lynn Anderson, and more. His walls are lined with gold and platinum recordings. Ron created the iconic piano part to Wind Beneath My Wings which has been recorded by dozens of artists, including the first recording which was by Gladys Knight. He was the rhythm section arranger and played piano and other keyboards on Dolly Parton's 9 to 5 album. ~ Ron Oates is still producing records and searching for new artists today, after 50 years in the music industry in Nashville. I was VERY fortunate to have him work with me on Superwoman Blues. We co-wrote one of the songs, A Million Years, and I'm so proud of our work!"
— + —
AMTA-Pro Podcast Discussion Outline
What is involved in the copyright of a song?
How do songwriters get paid?
How does streaming pay a songwriter?
What are some problems in the music industry related to copyrights?
Why should music therapists be aware of fair use principles?
Why should music therapists be concerned about music industry issues?
References/Resources
About the AMTA-Pro Speaker
Dr. Tracy Richardson is Dean of Graduate Therapy and Counseling programs, and Director of Music Therapy, at St. Mary-of-the-Woods College. A board-certified music therapist for 32 years, Dr. Richardson and has worked with people with a variety of mental and physical health issues. She specializes in the use of clinical songwriting and teaches other music therapists how to use clinical songwriting. In addition to her work at SMWC she implements music therapy for patients on the oncology unit of Union Hospital and consults with companies on teambuilding through music.
Tracy is a singer/songwriter with three original CDs to her credit and has performed in bands opening for acts such as George Strait, Randy Travis, and Earl Thomas Conley. One of her original songs, In Parke County, has had local radio airplay, while her Wabash River Song was placed on the TV show Gear Heads (MavTV). She is a member of the Nashville Songwriters Association International (NSAI). Her first book "Who Moved My Cape?! Letting Go of Your Superwoman Expectations" was published in 2020 and is available on Amazon and Bandcamp (https://tracyrichardson.bandcamp.com/merch). You can hear her music on Spotify and other platforms. Her latest CD, "Superwoman Blues", was recorded in Nashville, TN, and is available at Bandcamp.