Our colleague Robert Groene eventually ended up as a professor of Music Therapy at UMKC, but his long and winding musical road all started when he picked out the riff for "Louie Louie" on the piano when his piano teacher preferred he play "Happy Hoptoads" for a recital. In this AMTA-Pro podcast, Robert tells of his adventures as he played in rock bands, got drafted, taught guitar to at-risk adolescents as a Conscientious Objector, started and quit college, then played in more bands and at coffeehouses. All of this before he had even heard of music therapy! Tune in to this AMTA-Pro podcast where Dr. Robert Groene, a recipient of the AMTA Lifetime Achievement Award, tells many anecdotes about his interesting career as a musician and as a music therapist.
Enhanced Podcast
[ 28:47 ]
Play Now
|
Play in Popup
|
Download
Robert Groene: A Winding Road to Music Therapy
.
AMTA-Pro Podcast ~ April 2021
— + —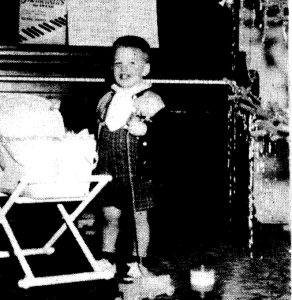 3-year-old Robert Groene wanting to play piano
— + —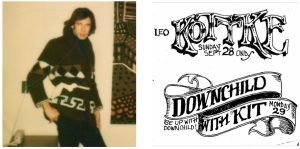 20-year-old rock guitarist Robert Groene
— + —

.
Robert Groene researcher, professor, and musician
Robert Groene Ph.D., MT-BC (Retired), is an Emeritus Associate Professor and past Director of Music Therapy at UMKC. He also taught at The University of Iowa, Wartburg University, and the University of Minnesota. He has been a guitarist and related frets researcher, instructor, and performer beginning in 1961. His research focus is on the efficacy of Music Therapy on client response including the topics of multicultural humility, Alzheimer's/Dementia, mental health, aging, musicianship, workforce issues, curriculum, dental fears, road rage, and the Lydian scale in American culture. He has been on the Editorial Boards of The Arts in Psychotherapy, Music Therapy Perspectives, and the Journal of Music Therapy. Dr. Groene has presented master classes, workshops, and research poster sessions regionally, nationally, and internationally, and he is a recipient of the AMTA Lifetime Achievement Award.
Publications
Groene, R. W. & Rasar L. A. (2020 in print): Podcast: "In Warm or Wintery Weather": Respectful Diversity in Early Childhood Music Therapy. Imagine 2020 online magazine. Issue: "Color of us: Early Childhood Music Therapy around the world". www.imagine.music therapy.
Groene, R. (2015) "Mid-semester student evaluations: An innovative teaching approach. The Accessible Roo: A UMKC Outcomes Newsletter" Vol. 4 Issue 3, p. 3
Groene, R., & Barrett, S. (2012) "The effect of music and suggestion on defensive driving responses of high school students: Implications for music therapy". *Music Therapy Perspectives, 30, 56-64.
Groene, R. (2012) "The Use of Lydian Music in American Popular Culture: Implications for Music Therapy". Soundeffects Newsletter/Journal (Improvisation Research issue). Wilfrid-Laurier Center for Music Therapy Research [Waterloo, Ontario CANADA
Groene, R. (2003).  Wanted: Music Therapists: A Study of the Need for Music Therapists in the Coming Decade. Music Therapy Perspectives, 21, 4-13.
Groene, R. W. (2001). The effect of presentation and accompaniment styles on attentional and responsive behaviors of participants with dementia diagnoses. Journal of Music Therapy, 38, 36-50.
Groene, R.W. (Ed.) (2001). Origins of the Midwest Music Therapy Academic Programs: Part I: University of Kansas & Maryville University. Quarternotes, American Music Therapy Association Midwest Regional Publication 29, (1), 34-40.
Groene, R. W., & Pembrook, R. (2000). Curricular issues in music therapy: A survey of collegiate faculty. Music Therapy Perspectives, 18, (2),92-102.
Groene, R. W. II., Zapchenk, S., Marble, G., & Kantar, S. (1998). The effect of therapist and activity characteristics on the purposeful responses of probable Alzheimer's disease participants.  Journal of Music Therapy, 35, 119-136
Groene, R. W. II. (1994). Book review: Shaw, J. (1993) The joy of music in maturity. St. Louis: MMB. Music Therapy Perspectives, 12, (1), 51.
Groene, R. W. II. (1993). Effectiveness of 1:1 Music Therapy Intervention with Individuals having Senile Dementia