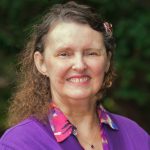 Linda Bosse got a strong start to her music therapy career with her professors Dr. E. Thayer Gaston and Dr. William Sears and her intern supervisors Ken Medema and Sandra Golden. And things have not slowed down in the 50+ years since. In this AMTA-Pro podcast, Linda tells us stories of her education, her clinical work in adult psychiatric and addictions treatment, and her dedicated volunteer work with regional and national music therapy, beginning as a young therapist serving on the NAMT committee that created the current Assembly and Council structures. As Linda tells stories of her professional and volunteer work, she also provides intriguing glimpses into the history of NAMT and AMTA over the past five decades.
Standard Podcast
[ 1:02:04 ]
Play Now
|
Play in Popup
|
Download
Linda Bosse: Involvement is the Key
AMTA-Pro Podcast ~ September 2021
— + —
(L) Young Linda Bosse at the piano and (R) with her fellow music therapy interns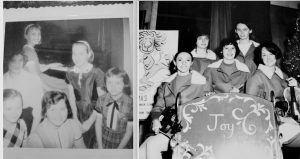 Our colleague Linda Bosse, a board certified music therapist, originally became an RMT (Registered Music Therapist) in 1972, having studied under Dr. E. Thayer Gaston and Dr. William Sears at the University of Kansas. Her music therapy internship was completed under Ken Medema and Sandra Golden at Essex County Hospital, Cedar Grove, NJ.  Ken offered Linda a job there, launching her 33-year career in adult psychiatric and addictions treatment work. In 1974 she co-directed an internship at Fairfield       Hills Hospital in Connecticut which continued to 1993, training over 100 music therapy interns. She also worked there as staff training director, rehabilitation therapy supervisor, assistant chief of rehabilitation services and as an addictions case manager at Berkshire Woods Treatment Center, on the campus of Fairfield Hills. With the closing of the Fairfield Hills campus in 1995, Linda transferred to the addiction services division of Connecticut Valley Hospital in Middletown, CT, where she worked as a rehabilitation therapy supervisor, case manager, safety officer, and risk manager. Retiring in 2003, she continued at CVH part-time until 2005, performing various administrative functions related to accreditation. At that time she guest lectured for music therapy classes at Berklee College of Music and was adjunct faculty for the music therapy program at Anna Maria College and the music department at Naugatuck Valley Community College in Waterbury, CT.  Linda offered NVCC's first Introduction to Music Therapy course in spring of 2007, continuing to teach music courses there until 2014.
Linda quickly became active in NAMT and then in AMTA regionally and nationally. She was appointed by Dr. Sears to be the "young professional" representative on the NAMT Constitutional Review Committee which created the current Assembly and initial Council structures.  She served as regional representative to Clinical Training and Peer Review Committees and was a delegate or alternate to the NAMT/AMTA Assembly from 1976 to 2013. Linda was New England Region president, in 1978-80 and in 2005-07. When the Certification Board for Music Therapists was established, Linda became an MT-BC. In 1995 she was elected to the NAMT Ethics Board, serving for nine years as chair and collaborating on the blending of NAMT and AAMT Codes of Ethics in preparation for the creation of AMTA.
During her career, Linda has been recognized by her peers with Presidential Service awards from the New England Region in 1993, 1999 and 2002 and with a Presidential Service award from AMTA in 2005. She received the AMTA Lifetime Achievement Award in 2017. Linda has also sung through the years in choirs, choral societies, and opera festivals for her universities, communities, and church. Linda shares these wise words as she reaches retirement: "I learned long ago to get involved and, if any problems come up, to be part of the solution. Dedication to music therapy has given me a fulfilling career, treasured relationships, and satisfaction in paying it forward!"