As is the case for many music therapists, Barbara Crowe was born into a musical family, played her Scottish grandmother's 3/4 sized violin in orchestra, and enjoyed singing & playing guitar as did many teens in the 1960's. While in college she was intrigued at the reaction when she shared music with kids with special needs, so she decided to "invent a new profession." Then she realized the field of music therapy already existed and appreciated having Bob Unkefer help guide her through a rewarding career from that moment on. In this AMTA-Pro podcast, Barb tells some delightful stories about her music exploits as a youngster, her discovery of music therapy, her eventful professional years, and her interesting adventures as an officer in AMTA in the 1990's.
Enhanced Podcast
[ 45:22 ]
Play Now
|
Play in Popup
|
Download
Barbara Crowe: Rich History in Music Therapy
AMTA-Pro Podcast ~~ September 2021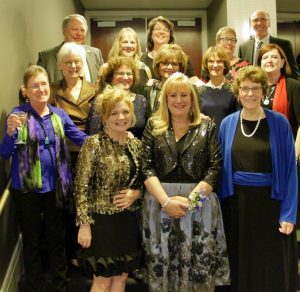 This snapshot of our music therapy colleague Barbara Crowe (in red scarf) with other MT-BCs who have served as president of NAMT/AMTA captures a bit of the spirit of volunteerism Barb talks about in this AMTA-Pro podcast. She talks about the fact that she was born in 1950, the same year our national association was started. Barb says that her experiences as a musician, as a music therapist, and as a volunteer in state, regional, and national associations helped her understand the importance of every single music therapist being involved in "growing our profession, supporting our profession, and working for our profession." She tells some great stories about her early years as a young member of an orchestra, as a music education major who wanted to "invent a new profession" after spending time with individuals who were special learners, as a music therapy major under the tutelage of Bob Unkefer, as a music therapy professor at several different universities, and as an active volunteer during interesting years as NAMT as it transitioned into AMTA.