The music therapy gig for Mary Rudenberg started over 70 years ago. Yes, you are reading correctly. Mary began her graduate studies in music therapy with E. Thayer Gaston and William Sears at the University of Kansas in 1951. And now, in 2022, she is still encouraging music therapy clinicians. Mary wrote chapters about dance therapy and about geriatric patients in the original Gaston book Music in Therapy published in 1968; she trained over a hundred music therapy interns; and she was a pioneer in medical music therapy at the University of Texas Medical Branch in Galveston, Texas starting in 1966, working at the children's orthopedic hospital, in inpatient and outpatient pediatric rehabilitation, and with pediatric burn patients at Shriner's Burns Institute. And that is just the beginning of the story. Tune in to this AMTA-Pro podcast for more about her rather amazing life. p.s. this picture was taken in 2019 when a group of music therapists visited Mary at her home in Galveston one summer day.
Standard Podcast
[ 24:55 ]
Play Now
|
Play in Popup
|
Download
Mary Toombs Rudenberg: Music Therapist since 1951
AMTA-Pro Podcast ~ January 2022
— + —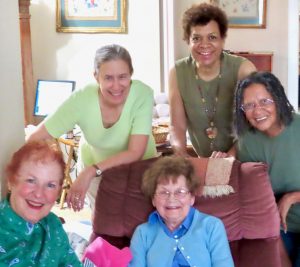 NOTE: Mary is in hospice as we are launching this AMTA-Pro podcast in January 2022, but Mary is enjoying sharing memories, pictures, and stories as she did with some of her music therapy colleagues in this picture to the left. You are invited to send your stories and snapshots of Mary Rudenberg to <CathyKnoll@gmail.com>
UPDATE: Mary passed away in her home with family on Wednesday February 2, 2022. Earlier that day, Beth Rogers went with one of her music therapy clients with his parent to share music and conversation with Mary. This person with autism has known Mary and Beth since the 1980's and plays music by ear with one finger. They had a chance to share music with Mary five or six hours before she slipped from her earthly life. 
Mary Toombs Rudenberg is a rather amazing person who has been a music therapist for over 70 years. Mary began her graduate studies in music therapy with E. Thayer Gaston and William Sears at the University of Kansas in 1951. After her graduate studies, she worked at Topeka State Hospital in Kansas, at the VA hospital in Houston, and at the the Harris County Center for Mentally Retarded Children in Houston. Then, for a span of three decades, Mary worked at the University of Texas Medical Branch in Galveston, TX, where she retired in 1995.
Mary wrote a chapter on Dance Therapy and a section on Musical Activities for Geriatric Patients for Music in Therapy by E. Thayer Gaston published in 1968. In 1982, she authored one of the monographs in AMTA's Music Therapy for Children monograph series. Mary's publication focused on music therapy for children with orthopedic handicaps. Mary co-authored an article – Promoting Psychosocial Adjustment in Pediatric Burn Patients through Music Therapy and Child Life Therapy – published in Music Therapy Perspectives in 1989.
On the regional level, Mary was secretary and also served as president of the Southwestern Region of AMTA. She helped coordinate several regional conferences, then was elected the vice president of the National Association of Music Therapy (which combined with another association to form what is now known as the American Music Therapy Association – AMTA) where she coordinated the national music therapy conferences in New Orleans and in Albuquerque in 1983 and 1984. She also served on the AMTA Clinical Training Committee and on the AMTA Assembly of Delegates for many years.
Mary has certainly impacted the profession of music therapy in many different ways – through her clinical work, her intern supervision, her work with the national and regional music therapy associations, and her publications.
June Pulliam. Our colleague June Pulliam tells of the influence Mary has had on her professional and personal life, June writes, "I began attending regional and national conferences even while I was a student (usually bunking with 3 or 4 other students). I became president of the Music Therapy Students Club at TWU and president of the Southwestern Region's music therapy student group, largely because of how Mary and my professors communicated the importance of being involved in the organization."
"While I was still a student and in my first years as a professional after graduation, Mary Rudenberg, in her inimitable way, nonchalantly would invite me to join her as she visited with of the leaders of our national association. So I had a chance to talk with people such as the national executive director, Margaret Sears and the national NAMT president Richard Graham and others who worked together in pioneering NAMT and the music therapy profession itself."
Meanwhile, as Mary was on the executive board of the SW Region, including a few years as president, she appointed June as Parliamentarian. June believes Mary's support and encouragement is the reason doors opened for her as the first African-American person on that regional board. Over time, she was elected as vice president, later president-elect, and then as its first African-American president of the Southwestern Region of AMTA.
Mary Rudenberg also helped June find her first music therapy job, then several years later helped her create a new music therapy position. Some years later June started working with children facing very different challenges, and Mary provided invaluable mentoring allowing June to work effectively with those youngsters. June was also a personal friend – her daughters played with Mary's granddaughters and June's mom enjoyed some of Galveston's community music events together. June writes, "I have been very blessed to have Mary Rudenberg as my professional guide and mentor as well as my friend."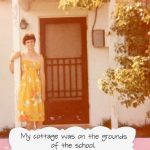 Kathleen Coleman. Our colleague Kathleen Coleman was one of Mary's dozens of music therapy interns at Moody State School, a part of the University of Texas Medical Branch (UTMB) in Galveston, Texas. Not only did Mary provide a quality internship experience, but she also gave Kathleen valuable advice for starting a music therapy career in the public schools back in the early 1980's. Kathleen write, "Because of that guidance from Mary, I not only worked exactly where I had hoped to work, but I also started an internship that trained music therapists who went on to work in other school districts, starting internships and private practices of their own." This ripple effect was all because of the innovative ideas and encouragement from Mary. Note: This snapshot is Kathleen as a new music therapy intern at her cottage at Moody State School.
Christine Neugebauer. In 2010, music therapist Christine Neugebauer published an interview with Mary Toombs Rudenberg in Voices: A World Forum for Music Therapy. In the interview's introduction, Christine writes, "In 1993, I had the privilege of completing my clinical training as a music therapist under the supervision of Mary Rudenberg. It was a challenging experience and one that truly set the path of how I practice music therapy today."
"However, it was the 1989 article she co-authored in Music Therapy Perspectives – "Promoting Psychosocial Adjustment in Pediatric Burn Patients through Music Therapy and Child Life Therapy" – that sparked my own personal interest in working with burn survivors. It was this article that motivated me to apply for her internship at UTMB which offered me clinical experience working with young burn survivors at the prestigious Shriners Burns Institute." This is a snapshot of Christine introducing one of her former clients from Shriners Burn Institute at a regional music therapy conference.
"It was during my training when I came to understand and appreciate the knowledge base and experience that Mary Rudenberg has contributed to the field of music therapy. Medical music therapy was still in its infancy and the music therapy internship program at the University of Texas Medical Branch in Galveston, Texas was one of a few internships in the nation offering music therapy training in a medical setting. This internship had an excellent reputation and during her years as an internship director, Mary trained over 100 interns, many of whom still reside in Texas today."
Ann Petty. Our music therapy colleague Ann Petty sent a note overviewing her work with Mary Rudenberg. Ann said, "I interned at UTMB with Mary when the internship was at Moody State School, Child Health Center, and Shriners Burns Institute. It was a wonderful place to intern. Mary was the gentle yet firm 'glue' that coordinated the program. She was proud of her former interns. I remember presenting for the first time at conference and Mary attended the presentation. My co-presenter asked Mary why she was there, stating, 'You already know this stuff.' Mary said, 'I know' and looked at me as if to say, '…and I am proud that my former interns are making a difference with what they learned.'
Ann continues by writing, "What a life Mary Rudenberg has had. She was the first Southwestern AMTA Harmony Award recipient. We referred to her that year as 'Ms. Harmony' Blessings to this special Music Therapist."
Lee Anna Rasar sent a message about her interaction with Mary over the years. Lee Anna wrote: "Happy Birthday, Mary! When I first started out in my music therapy internship at the Children's Hospital in New Orleans in 1978 you were already our wonderful leader for working with children in hospitals and pediatric rehab. I appreciated your support so much and learned so much from you and your music therapists that you had trained. I loved sharing with you and it was so much fun when you came to New Orleans and stayed with me. You were brave to ride in my new car when I didn't even know how to turn on the windshield wipers when it rained – and to be patient when we waited in line to get onto on-ramps during traffic with interesting characters checking us out, and to the grocery store with me after midnight.
I have so much respect for both you as a wonderful human being and for your work in music therapy. You really laid a fantastic foundation for the three of us working in Children's Hospitals back in that day to move beyond the hospital school model of music therapy and into physical medicine rehab and the acute care music therapy with many clinical programming arenas being added in to the community in general. I appreciated your support for dance therapy. Your students have been wonderful colleagues throughout the years and we always reference you when we get together. Thank you for being who you are and for treating us so graciously and with such love. You always had a wonderful twinkle in your eye that showed your inspiration which was contagious. Love to you now from Eau Claire, Wisconsin, with great respect and gratitude for who you are and what you have done with your life, Numbers 6: 24 – 26, Lee Anna Rasar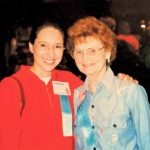 Katherine Ryan Haghighi is another music therapist who sent 2022 birthday greetings to Mary as well as a note for Mary's podcast. Her maiden name was Ryan, so Mary may remember Katherine as Kathy Ryan. Katherine writes, "One of my favorite memories of Mary is her steadfast belief in the core of music therapy. No matter who we worked with or spoke to at UTMB or the Shriner's Burn Institute, she instilled a professionalism that was bar none. She believed in us as interns and as professionals serving the medical community. "
Katherine fondly remembers that, when she arrived in Galveston in 1990, Mary and her husband "picked me up and helped me to get settled. Mary also organized a get-together for me to meet people. Her genuine love was felt from day one. Not to say that she was easy on any of us. We worked hard. But the respect we carried for her and the knowledge she shared was unparalleled." Katherine closes in saying, "I have always been honored to be one of Mary Rudenbert's interns and will always be thankful for all that she taught me. Working with Mary and Margarita Sims was the highlight of my undergraduate education."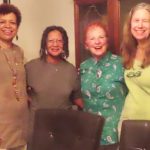 Cathy Knoll. I'm going to take a minute now to tell you of one of my stories about Mary Toombs Rudenberg. My name was Cathy Dolan when I first met Mary in 1969 as a music therapy student at Texas Woman's University, Shortly after marrying in 1978 and becoming Cathy Knoll, I received an urgent phone call from Mary. As SWAMTA president, she had been contacted by the Texas Education Agency. The TEA wanted the Southwestern Region of AMTA's input about guidelines for their allocating PL94-142 monies that states were receiving from the federal government to spend on related services for students in public school special education programs. I had worked as a music therapist in public schools in Cleveland, Ohio and was providing music therapy services to special education classrooms in the public school education cooperative in Stephenville and Granbury Texas. Mary and I drafted a five sentence paragraph that specified that these PL94-142 related services funds could only go to a Registered Music Therapist (RMT), now known as Board Certified Music Therapist (MT-BC). With those specifications going into effect in the early 1980s, many dozens of music therapy positions opened up in public schools around the state, and are still growing and thriving in 2022. All of this is a result of Mary taking on and meeting the challenge from the Texas Education Agency over 40 years ago.
Margarita Sims. We close this podcast with a heart-felt story written by one of her closest friends and longtime colleagues, Margarita Garcia Sims. Margarita worked with Mary at the University of Texas Medical Branch, helping supervise over 40 of Mary's interns and expanding the music therapy program to impact the lives of hundreds of patients, caregivers, and families. This is what Margarita wrote:
I first met Mary in the Fall of 1982. I was a freshman music therapy student at Loyola University in New Orleans. I decided to attend the National Association for Music Therapy (NAMT) conference in Baltimore. Since I was going to that national conference, I was asked to serve as a student representative of our South Central region. I didn't know what that meant, but I agreed to attend a list of meetings and bring back information. I had no idea what I was getting into. It was in one of those meetings that I met Mary.
I believe Mary was vice-president of NAMT, a role which at that time largely consisted of organizing the national conferences. I was informed in that meeting that New Orleans would be the site of the 1983 national conference, and our regional student organization (which had no constitution, bylaws, treasury, or officers other than "me") would be in charge of arranging student housing and activities.
There was a steep learning curve for me and much to accomplish. In a subsequent meeting, I presented a proposal for funding the production of conference t-shirts, for which the student organization would receive the profits. I met with representatives from the other two collegiate programs in the region, and we developed a constitution, bylaws, account, officers, and a plan for the conference. Mary seemed impressed by my efforts, and at the New Orleans conference offered me an internship with her at the University of Texas Medical Branch in Galveston (UTMB). By this time, I was a sophomore and and a few years away from my internship. I talked with alumni from her program and learned that Mary's internships were among the most coveted in the country, despite the fact that there was no stipend, and a car was required.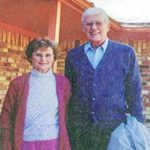 I continued my studies at Loyola, continued to attend national conferences, and became involved in the National Association for Music Therapy Students (NAMTS). Through serving on various committees, I continued to interact with Mary and her alumni, and began to seriously consider her offer. I discussed her proposal with the director of Loyola's music therapy program, Mr. Charles Braswell. He was initially quite adamant that I not go, saying that he did not like his students going out of state. I later discovered that Mr. Braswell and Mary had been classmates at the University of Kansas (KU) under E. Thayer Gaston. After several conversations between them, Mr. Braswell gave permission for me to go. Back then, one could graduate without an internship, which is what I did in 1986. I needed to work to raise the funds for my living expenses while in Galveston. I purchased my mother's 10-year-old Checker Marathon for $500 and drove to Galveston in October of 1987.
Interning with Mary was intense. Truth be told, Mr. Braswell had hinted that would be the case. Within the 6-month internship, two months were spent in Pediatric Rehab with Mary Rudenberg and Beth Rogers, and two months were spent in the Child Health Center under Jill Newcomer. The final two months were spent at Shriners Burns Institute, where the intern was the sole provider of music therapy, under the direct supervision of a Child Life Specialist and regular observations were made by Mary, Beth, and Jill.
This gradual autonomy, as well as navigating the leadership styles of different mentors and learning different procedures for the different sites was definitely beneficial in preparing an intern for going out into the workforce. Additionally, interns were given consults for individual and group music therapy, as well as occasional co-treatment with other disciplines. Mary required weekly seminars within the music therapy (MT) department, and each intern presented two in-services to non-MT professionals either within UTMB or at an outside organization/medical facility. An instrument adaptation was required of each intern, as well as a slew of original session plans. Mary demanded excellence in every area.
Despite the intense nature of the internship, Mary was protective of her interns' mental health. When my mother was diagnosed with cancer toward the end of my internship, Mary insisted I fly home to see her. She encouraged me to sing professionally in my off time, and made introductions to facilitate that. She encouraged participation, reflection, and growth in all areas of life, and demonstrated enormous faith in me and my fellow interns.
I was fortunate that Mary offered me a position at UTMB in the late summer/early Fall of 1989, to succeed Jill Newcomer. My primary assignment was in the newly renamed Children's Hospital, but together with Beth Rogers, the three of us further expanded the MT program into psychiatry and the operating suites. Interns who came through now had the full gamut of hospital experiences at their fingertips, in inpatient & outpatient physical and mental health, pediatric through geriatric, acute care through rehabilitation, in 1:1 and group settings.
I had the joy of working with Mary frequently. I played piano to accompany her work in gero-psych, as well as a video of relaxation and exercise produced by UTMB. Mary consistently sought to improve and codify treatment protocols and documentation. She wrote, published, and presented with other music therapists she'd mentored.
The most impactful therapeutic interventions I observed and experienced were through dance. Mary's own internship following her study at KU was in dance therapy with Marian Chace. Seeing Mary first in videos with patients from Shriners, and then experiencing Mary as a partner in dance therapy workshops, in-services and co-treatment, allowed me to see Mary as her absolute best self. She loved to move, and communicated best in this manner. It is through dance and movement that I most often felt Mary's JOY.
On a personal note, I lived in the same block as Mary for over 14 years. After Mary retired from UTMB and the MT program closed, my husband and I had our first child. Mary often volunteered to come sit with our colicky son so I could take a nap. Her granddaughter and our son attended the same preschool and often played up and down the long sidewalks between our houses. I got to know Mary in a different way during this time, the Mary who was devoted to regular yoga classes and her hair/nail appointments. The Mary who enjoyed an occasional piece of chocolate and who loved her family deeply. (This is a snapshot of Mary in June 2019.
Mary Toombs Rudenberg has been the single most influential figure in my professional life. She is a treasure to the profession of music therapy, and a dear friend.
In Closing. We all echo Margarita's words and thoughts. Several other music therapists are planning to send stories about their interaction with Mary in the clinic, with the Southwestern Region of AMTA, or on the national level. And we hope anyone listening to this podcast will feel free to send us a note with stories of interactions you have had with Mary as well as any pictures you have. Mary is in hospice as we are recording this AMTA-Pro podcast. She has enjoyed all contacts and stories from her music therapy colleagues, so we hope you will contribute. Please take a minute to send any stories or pictures to <CathyKnoll@gmail.com> about our music therapy colleague, Mary Toombs Rudenberg.
Update in February 2022: As mentioned above, we began compiling the information for this podcast in 2021, then finalized it while Mary was in hospice in January 2022. You can see to the left a fun picture of our MT-BC colleagues Jane Creagan and Dianne Wawrzusin with a care package and card they sent to Mary in January from the AMTA staff.  Mary passed away peacefully in care of her family n February 2022, but we still welcome any stories and pictures to share here. 
Neugebauer, C (2010). Mary Rudenberg, Music Therapist Pioneer. Voices: A World Forum for Music Therapy. Retrieved January 20, 2022, from https://voices.no/index.php/voices/article/view/1856/1620