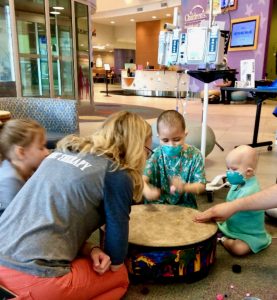 Children admitted to a hospital are asked to live in an unfamiliar place, to put their trust in strangers, to commit to irregular schedules, and to endure frequent medical tests, check-ups, and procedures. Hospitals are unique settings where music therapy groups give kids a chance to enjoy making music, to cope with change, to boost environmental control, to broaden social networks, to express concerns and emotions, and to build resiliency. In this AMTA-Pro podcast, four MT-BCs at the Children's Minnesota Hospitals – the 7th largest pediatric health system in US – talk about their music therapy groups for medical/surgical patients, for hematology/oncology patients, and for patents with diabetes, eating disorders, and other issues. Our colleagues Erinn Frees, Alicia Little, Sarah Woolever, and Kayla Shafer talk about their work – along with the other MT-BCs and MT interns at Children's MN – facilitating groups for all ages including focus groups for tweens, teens, parents, siblings, and even staff. The text section of this AMTA-Pro podcast includes a wealth of resources, references, and other information about successfully including group music therapy alongside individual therapy in the pediatric medical setting.
Standard Podcast
[ 37:51 ]
Play Now
|
Play in Popup
|
Download
Group Music Therapy in Pediatric Hospitals
AMTA-Pro Podcast ~ March 2020
Alicia Little, Erinn Frees, Sarah Woolever, and Kayla Shafer
— + —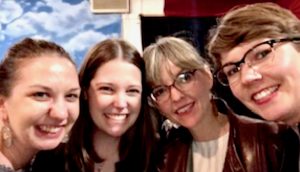 The hospital is a unique setting and music therapy groups can offer valuable social, cognitive, and emotional support to pediatric patients and their families. While individual sessions do make up the majority of patient contact time at our organization, groups can provide positive outcomes for patients while being an efficient use of a music therapist's time. Children admitted to the hospital are removed from their familiar social, educational, and spiritual environments. They are asked to put their trust in strangers and to commit to unfamiliar schedules. They are asked to adapt, cope, and be resilient. Music therapy groups can provide opportunities to increase environmental control, increase coping skills, and encourage resiliency.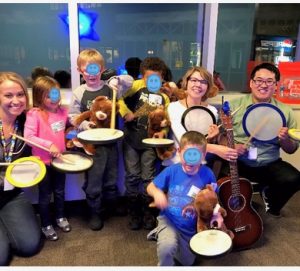 The music therapy team at Children's MN located in Minneapolis and St. Paul provides weekly music therapy group opportunities for patients and families in the following categories: medical/surgical patients, hematology/oncology patients, Tween Time (8-12 year old patients), Teen Time/AYA (13-18 year old patients), Center for Treatment of Eating Disorder patients, and others. The participants in each group as well as the therapy goals and sample interventions are described briefly in this AMTA-Pro podcast. Addressing individualized goals within the group setting is an important aspect of our work. Compiling information from referrals, multidisciplinary rounds, and the electronic medical record (EMR) are methods we can utilize to gather information when planning group interventions. Additionally, documenting patients' responses and outcomes in the EMR is a necessary step to advance collaboration with other disciplines. Treatment planning and documentation examples will be provided to illustrate these processes.In this podcast, four members of the music therapy team at Children's Minnesota, Erinn Frees, Alicia Little, Sarah Woolever, and Kayla Shafer,  discuss how various music therapy groups were started within the hospital, and they talk about the particular strengths and challenges of group work with different medical populations as well as ideas for future growth.
Quick facts about Children's MN
7th largest pediatric health system in US
Only health system and level I Trauma Center in Minnesota to provide care exclusively to children
430 staffed inpatient beds along with emergency care facilities, 12 primary care clinics, and 9 specialty care sites
Specialties include Level I Children's Surgery Center, Cardiovascular Critical Care, Neonatology, Hematology/Oncology, Medical/Surgical, Pediatric Intensive Care, and Epilepsy/Neurosciences
About Children's Minnesota
https://www.childrensmn.org/about-us/
Music Therapy at Children's MN
https://www.childrensmn.org/services/family-services/child-life-specialists/music-therapy/?_ga=2.126725325.1740239338.1574175458-936308655.1574175458
MT Internship at Children's MN
Children's MN Internship Fact Sheet
About the AMTA-Pro Speakers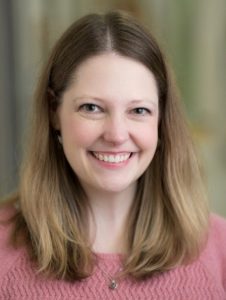 Erinn Danielson Frees, MA, MT-BC, has been working as a music therapist since 2006. She graduated from Gustavus Adolphus College (St. Peter, MN) in 2004 with a Bachelor of Arts in music and psychology. In 2006, Erinn received her Master's degree in music therapy from the University of MN. Erinn interned at Good Samaritan Society-University Specialty Center in 2006 and was hired at that facility immediately following her internship. Here, she worked primarily with individuals with Alzheimer's/Dementia, Huntington's disease, traumatic brain injuries, and on a dual diagnosis men's behavioral unit. In 2010, Erinn was hired by Children's Hospital Minneapolis as the hospital's first full-time, non-contracted music therapist. In this position, she has completed additional training in Neonatal Intensive Care Unit Music Therapy and Neurologic Music Therapy. Erinn currently works on the Minneapolis campus with the pediatric oncology, medical-surgical, cardiac/intensive care, and neonatal populations. She enjoys her role as an internship supervisor at the hospital. In addition, Erinn has served as a guest lecturer on music therapy for hospital Grand Rounds, clinical nursing educators, and at the pain and palliative care clinic, for a number of schools and community organizations, and for St. Mary of the Woods and Augsburg Colleges. She has presented at Great Lakes Regional conference as well as AMTA national conference, and her work has also been featured in several TV commercials for Children's Hospital and on a PBS documentary, "Arts and the Mind." After being inspired daily and shown how life is meant to be lived by the amazing, strong and resilient kids and families at Children's Hospital, Erinn goes home to her husband, smart and sassy 3-year old boy, and adorable 6-month old baby boy.  She enjoys playing her flute whenever she gets a chance and golfing (terribly) when the Minnesota weather finally warms up!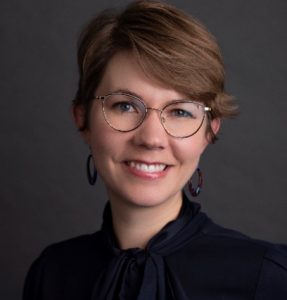 Kayla Shafer, MA, MT-BC, has been a music therapist since 2014. She earned a Bachelor of Arts degree in Music Education from St. Olaf College, after which she taught middle school band for several years. Interested in how music uniquely impacts our brains and bodies, she returned to school and earned a Masters of Arts degree in Music Therapy from the University of Minnesota.
Throughout her teaching and therapy career, Kayla has worked with a variety of populations, including: neurotypical adults and children with unique learning styles, children and adolescents with intellectual and developmental disabilities, individuals on the autism spectrum, pediatric and adult medical patients, oncology patients, individuals in hospice care, and adults with Parkinson's disease. 
​Kayla has been a member of the Children's Minnesota music therapy team for four years and works primarily on the St. Paul campus. She serves as the internship director for Children's and enjoys all opportunities she gets to interact with students.  She is also co-founder of Keynote Music Therapy, a private practice in the Twin Cities primarily focused on serving older adults with memory and cognitive impairments. Kayla's strong interest in writing and research has resulted in two published articles in peer-reviewed journals with a third nearly ready for submission. She is continually active as a therapist and teacher, manages a private lesson studio, and has served as the primary instructor for Psychology of Music at the University of Minnesota. Kayla has presented at the national American Music Therapy Association conferences in Dallas, Texas and in Minneapolis, Minnesota. She is an annual guest lecturer at the University of Minnesota.  In addition to her work, Kayla enjoys spending time with her husband and dog, gardening, running, and playing with her nephews.
Alicia Little, MT-BC has been a music therapist for 4 years. She is honored to serve as the newest member of the Children's Minnesota team.  Alicia received her Bachelor's degree in Music Therapy from the University of Minnesota-Twin Cities. During her music therapy career Alicia has worked with and a wide variety of populations including: early childhood special education, children with autism, adults with traumatic brain injuries, people with developmental and intellectual disabilities, pediatric medical patients, adults with dementia, adults with Huntington's disease, and children and adults with various mental health diagnoses. Alicia is a Paddy Clancy Memorial Scholarship Fund recipient which allowed her to provide music therapy to children and adolescents with special needs in Ireland in 2015.
Alicia serves as the music therapy practicum supervisor at Children's Minnesota for the University of Minnesota-Twin Cities and Augsburg University. She also works for a private practice in the Twin Cities where she works tirelessly to provide music therapy to communities with limited resources and serves as an internship supervisor. In addition to her work, Alicia enjoys practicing yoga and creating any type of art whenever possible.
Sarah Woolever, MM, MT-BC has been a working board-certified music therapist in the Twin Cities for over eighteen years. She received her Bachelor's of Music in Music Therapy from the University of Iowa in 2002 after finishing her internship at Reuben Lindh Family Services. Sarah worked her first 11 years at The Family Partnership, a Minneapolis-based family support center serving early childhood and families in historically underserved situations. In 2006, Sarah began a music therapy internship program and supervised twelve interns during her time there.  While at The Family Partnership she presented at multiple regional conferences, national music therapy conferences, and university classrooms about working in a historically underserved system and adding the cultures and languages reflecting her clients into music therapy sessions. In 2008, Sarah received the Anne Emery Kyllo Profession Scholarship and attended the Neurologic Music Therapy Training.  She has since trained as a Neurologic Music Therapy Fellow, a Neonatal Intensive Care Unit Music Therapist, First Sounds: Rhythm, Breath, and Lullaby (first tier), a National Roster Internship Director and Supervisor, and a Children's MN Evidence-Based Research Scholar. Sarah completed a Master's of Music in Neurologic Music Therapy through Colorado State University in 2012. Sarah began working at Children's Hospitals and Clinics in 2012, where she currently provides services for patients and families primarily in the NICU, PICU, and Medical/Surgical units.
Outside of work, Sarah sings, plays and writes in her band, Friendport as well as with other ensembles. She loves crafting with friends and is an active member in her son's school PTA. But her favorite thing to do is having dance parties with her spouse and their two sons.
References
Bauer, N. S., Azer, N., Sullivan, P. D., Szczepaniak, D., Stelzner, S. M., Downs, S. M., & Carroll, A. E. (2017). Acceptability of group visits for attention-deficit hyperactivity disorder in pediatric clinics. Journal of Developmental and Behavioral Disorder in Pediatric Clinics, 38(8), 565-572. doi: 10.1097/DBP.0000000000000492
Cassano, J., Nagel, K., & O'Mara, L. (2008). Talking with others who "just know": perceptions of adolescents with cancer who participate in a teen group. Journal of Pediatric Oncology of Nursing, 25(4). doi: 10.3390/children4050035
Freedenberg, V. A., Hinds, P. S., & Friedmann, E. (2017). Mindfulness-based stress reduction and group support decrease stress in adolescents with cardiac diagnoses: a randomized two-group study. Pediatric Cardiology, 38(7), 1415-1425. doi: 10.1007/s00246-017-1679-5.
Germeni, E., Vallini, I., Bianchetti, M. G., & Schulz, P. J. (2018). Reconstructing normality following the diagnosis of a  childhood chronic disease: does "rare" make a difference. European Journal of Pediatrics, 177(4), 489-495. doi: 10.1007/s00431-017-3085-7.
Gumuchian, S. T., Delisle, V. C., Pelaez, S. Malcarne, V. L., El-Baalbaki, G., Kwakkenbos, L., Jewett, L. R., Carrier, M. E., Pepin, M, & Thombs, B. D. (2018). Reasons for not participating in scleroderma patient support groups: a cross-sectional study. Arthritis Care Research, 70(2), 275-283. doi: 10.1002/acr.23220.
Hilliard, R. E. The effects of music therapy-based bereavement groups on mood and behavior of grieving children: a pilot study. Journal of Music Therapy, 38(4), 291–306. https://doi.org/10.1093/jmt/38.4.291
McFerran, K., Roberts, M., & O'Grady, L. (2010). Music therapy with bereaved teenagers: a mixed methods perspective. Death Studies, 34(6), 541-565. DOI: 10.1080/07481181003765428
Olson, K. B. (2017). After the visit: an overview of government and community programs supporting children with medical complexity. Children, 4(5). doi: 10.3390/children4050035
Neugebauer, C.T. (2008). Pediatric burn recovery: acute care, rehabilitation, and reconstruction.Hanson-Abromeit & Colwell (Ed.), Medical music therapy for pediatrics in hospital settings (pp.210-219). Silver Spring, MD: AMTA.
Reidy, D. E., Holland, K. M., Cortina, K., Ball, B., & Rosenbluth, B. (2017). Evaluation of the expect respect support group program: a violence prevention strategy for youth exposed to violence. Preventative Medicine, 100, 235-242. doi: 10.1016/j.ypmed.2017.05.003.
Thurman, T. R., Luckett, B. G., Nice, J., Spyrelis, A., & Taylor, T. M. (2017). Effect of a bereavement support group on female adolescents' psychological health: a randomised controlled trial in South Africa. The Lancet, Global Health, 5(6), e604-3614. doi: 10.1016/S2214-109X(17)30146-8
Walworth, D. (2013). Bright Start Music: A Developmental Program for Music Therapists, Parents, and Teachers of Young Children. Silver Spring, MD: American Music Therapy Association.